On April 16, the deadliest day to date in the U.S. coronavirus pandemic, scores of reporters from across Colorado set out to find how people were coping. They found stories of grit, ingenuity and hope.​
Click across the map to see stories from around Colorado.
Eric Gorski, Colorado News Collaborative/Chalkbeat Colorado
A teacher greets her students. An imam counsels his congregants. A firefighter reports for duty. New parents take their baby home from the hospital.
These are routine moments in the lives of Coloradans. But the coronavirus has transformed the routine into the remarkable, upending how we live and interact with each other.
As a heavy spring snow blanketed the state on Thursday, April 16, journalists from news organizations across Colorado set out to chronicle a day in the life of the state's residents during this extraordinary time.
It happened that this day was the deadliest to date in the U.S. for the COVID-19 pandemic. More than 4,500 people died. Colorado's state health department reported 17 more deaths, and that the state death toll had hit 374 — a figure that the state would later determine was more than 560 as more reports of COVID-19 victims surfaced.
The statewide order to shut down non-essential businesses — issued a month before to the day — had taken a toll. In that month-long period, more than 231,000 people filed for unemployment, just short of the 285,000 unemployment claims filed in all of 2009 during the height of the great recession. Much has changed in such a short amount of time.
Teachers now instruct students over screens. Doctors speak to patients through masks and face shields. Newborn babies are quarantined from sick parents.
But the journalists also chronicled how, even as Colorado stares down uncertainty, death and illness, life goes on. Birthdays are marked. Prayers are said. Hope is nurtured.
And in what feels like a dark hour, there are moments of hope.
HOUR-BY-HOUR: A DAY IN THE PANDEMIC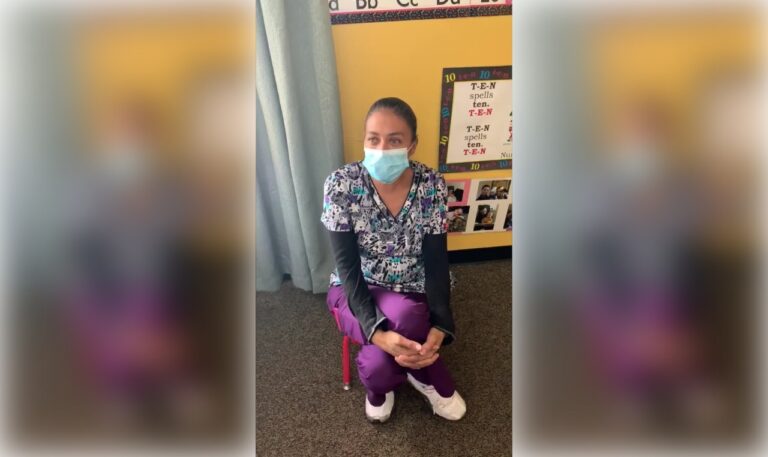 7 a.m.: Venture For Success Preparatory Learning Center, Denver
Ann Schimke, Chalkbeat – co.chalkbeat.org
Dressed in purple scrub pants and a coordinated print top, Catherine Scott started her work day with a spray bottle of bleach solution, wiping down door handles, tables and a laptop keyboard.
Scott is not a health care worker, but a preschool teacher — often tasked with opening the child care center where she works in Denver's Montbello neighborhood.
When children began arriving with their parents, Scott met them at the front door, thermometer in hand. After temperature checks, parents logged their child's arrival on the laptop, and everybody washed their hands in the sink up front.
Scott, who the youngsters call "Miss Cathy" or "Miss Cappy," had just three children in her classroom — a 2-, 3-, and 4-year-old — two of them new to the center. It was a far cry from the usual 15 she would have on a day without coronavirus.
After many child care providers closed last month, state officials made a recommendation that caught some by surprise: Stay open, with precautions, to care for the children of working parents.
Scott and her co-teacher recorded morning "circle time" so the video could be posted to a private YouTube channel for children whose parents kept them home. They sang their good morning song in English and Spanish and read the book "Pete the Cat and his Four Groovy Buttons."
One of the biggest challenges of preschool in the coronavirus era is social distancing. Instead of the usual snuggles and hugs, Scott has switched to distance hugs, air high fives, and pats on the back. One student spontaneously jumped into her lap, then quickly realized her mistake.
"I sorry," the girl said. "Air high five."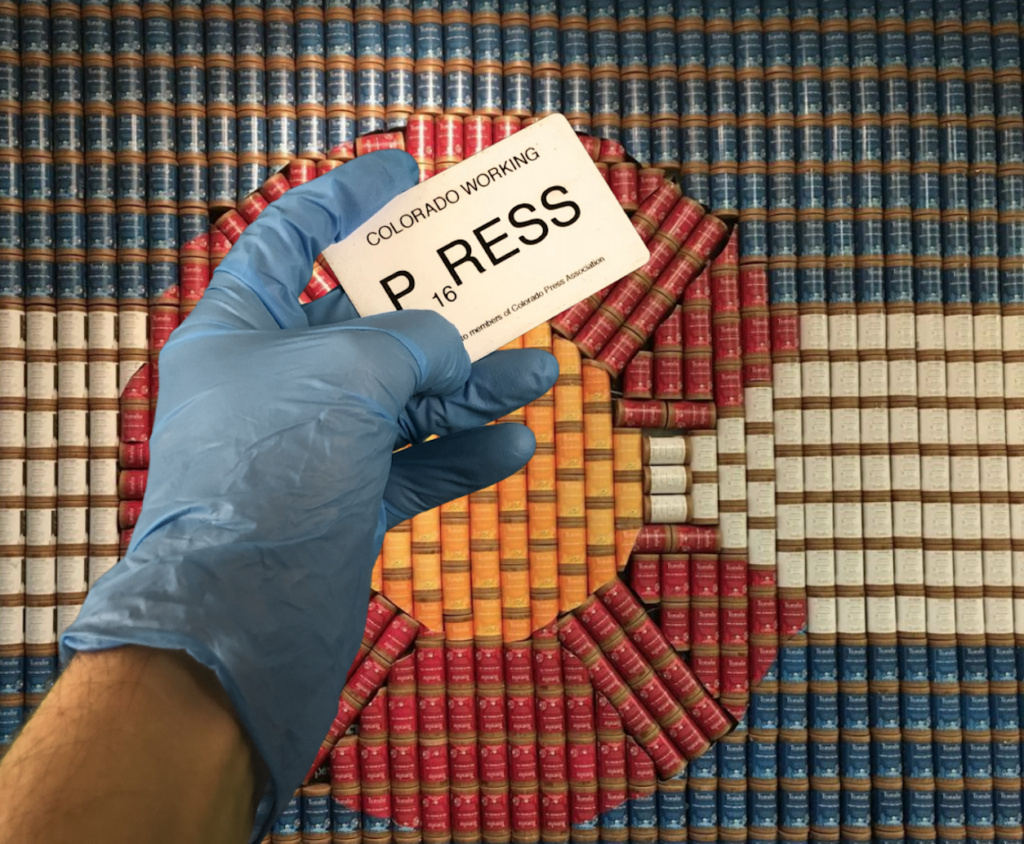 For 'Covid Diaries Colorado' reporters join forces
All week, the stories have been dropping like anvils across Colorado's media landscape, pounding in hard truths about the various ways the novel coronavirus is impacting the lives of everyday people. 
Colorado newsrooms unite to cover COVID-19
You might have heard how the last few weeks have dramatically destabilized the local news industry.

Perhaps you've read that from coast to coast, a global pandemic has infected a business model that was already suffering from a compromised immune system in our current era of late capitalism.
When the coronavirus pandemic hit, a coalition of Colorado journalists already had been talking about how to better serve the public by collaborating and sharing stories. The urgency of the situation accelerated the work.
More than 100 Colorado news organizations – newspapers, TV, radio and digital outlets – are now sharing their reporting through the Colorado News Collaborative, COLab for short.
On April 16, 22 outlets joined together to report on the impact of the pandemic on Coloradans.
The result: COVID Diaries Colorado, stories of grit, ingenuity and hope.
LOCAL NEWS COLLABORATION IN THE TIME OF COVID​
The image is familiar, even mundane, to most of us now: a dozen or more faces peer out against various backgrounds – some real, some green-screened – talking and planning across many miles. Together, apart.
But it was an unprecedented group that first gathered on April 1 – in more ways than one. First, the faces were of journalists from newsrooms from across Colorado, who in previous years have been more accustomed to competition than collaboration. Second, the group was finding unity in a common purpose – how working together could help each of them reach more Coloradans with accurate, timely, potentially life-saving updates and rigorous reporting in the unprecedented time of COVID.
Since that first Zoom call less than a month ago, nearly 100 journalists representing over 40 newsrooms across the state have joined the Colorado News Collaborative – which now includes the state's largest and smallest newspapers, radio and television stations, digital news outlets, and professional journalism associations. A major factor prompting each to join the COLab, as it's called, is a common need to figure out how to do more with less.
Why? While online news traffic is surging due to reader demand for trustworthy local news and information, Colorado's newsrooms themselves are running on fumes.
What will you remember most about this historic moment that we're all sharing? How are you navigating work and family needs? What are your struggles – and silver linings?
History Colorado wants to hear from you about how the outbreak is changing your daily life. Your submission – along with the stories in our COVID Diaries series – will become a part of the state archive, for future generations of Coloradans to learn about this time.
It's easy to submit a written journal entry, voicemail, or video diary.
This project was made possible through unprecedented collaboration between dozens of newsrooms and journalists across the state, who are active partners in the Colorado News Collaborative, or COLab.
To support their work directly, please subscribe or donate to your favorite local newsrooms. Visit their websites by clicking on their stories above.
To support the collaborative effort of COLab, donate to the Colorado Media Project.