Less than six months after Wet Mountain Tribune Publisher Jordan Hedberg filed a federal First Amendment lawsuit against the Custer County board of commissioners, both sides have reached an initial agreement to settle.
On Wednesday, the Tribune's team and its legal counsel met in Colorado Springs for a day-long settlement conference with county politicians and their own legal representation, along with a federal magistrate judge.
In a phone interview the following day, Hedberg said while the ink still must dry on the paperwork, he expects his newspaper will get $50,000 and the local public officials will give the Tribune back its status as Custer County's "paper of record" for the next four years. He said he would wait to report the news in his own weekly newspaper until the check clears.
A spokesperson for Custer County confirmed the local government has a memorandum of understanding with the Tribune and said Thursday the county was still in the process of finalizing an agreement, which should be complete "shortly."
The newspaper lawsuit came after the county board of commissioners voted 2-1 earlier this year to revoke the Tribune's status as the county's paper of record and instead give that designation to its rival, the partisan Sangre de Cristo Sentinel, which calls itself the "voice of conservative Colorado." Doing so made the Sentinel, not the Tribune, the newspaper the county pays to place required legal notices.
As this newsletter reported in January, one of the commissioners named in the lawsuit said before voting, "I don't know why I would support a paper that doesn't support the county," and accused Tribune PublisherHedberg of a "witch hunt" against the county's health director. That same public official also said he couldn't imagine supporting a paper that would "bad mouth the process of how we do business as a board of commissioners," adding, "I don't have an issue with being criticized because nobody's perfect." Another commissioner said he found it hard to give the county's bid to a newspaper that is "for lack of a better term combative."
Hedberg and First Amendment attorney Steve Zansberg argued retaliation was a "substantial motivating factor" in the commissioners' decision-making process and therefore violated the newspaper's First Amendment rights.
The Wet Mountain Tribune isn't the only Colorado newspaper in recent years to twist the nose of its local government and have those in power cut off public support for it.
Last fall, after the small Ouray County Plaindealer called out the county on a government transparency issue, the county decided to stop publishing its meeting agendas in the newspaper, something it paid about $200 a week to do and had done for the past decade. In June, members of the Pitkin County Commission yanked advertising from The Aspen Times and made its rival, The Aspen Daily News, the county's paper of record. At one point prior to a vote, a commissioner asked, "My question would be who are we punishing? It's punitive." Another replied that the goal was to punish the newspaper's owner, Ogden Newspapers of West Virginia.
The case in Custer County, a small Southern Colorado municipality of about 5,000 about an hour west of Pueblo, drew national attention in the fabulous world of newspaper public notices. Richard Karpel, who runs the Public Notice Resource Center, predicted in a September item for his publication that the lawsuit was a "slam-dunk."
For Hedberg, if it all goes according to plan this recent legal settlement is "a victory for the Tribune but it's also a victory for the community as well." He added, "I feel like the justice system upheld our First Amendment rights as newspapers in a pretty blatant case."
That case, he said, reiterates that governments "cannot retaliate against the press."
Colorado Gannett paper: support local journalists despite corporate retrenchment
The nation's largest newspaper chain announced another round of layoffs following its hedge-fund-money-backed monster-merger with another newspaper company.
Colorado has two regional Gannett papers, The Coloradoan in Fort Collins and The Pueblo Chieftain. This week, Coloradoan Editor Eric Larsen and a team of journalists took to the pages of their paper to explain what the cutbacks mean for their own community.
From the column:
Our company's $54.1 million net loss in the third quarter of 2022 preceded another round of cost-cutting moves that included staff reductions in newsrooms across the company and the December furloughs that will thin available staff in the coming weeks.
Look at that. A newspaper explaining to readers why the paper is getting thinner and fewer journalists are working for it.
The column also pushed back against a former Denver Post sports reporter who posted on social media: "Gannett. Hedge funds. More. So is it still credible to plead, 'Support local journalism?'" The question came in response to a public (since deleted) bulletin on Twitter by a journalist for The Coloradoan who wrote about his upcoming "corporate-mandated furlough (a Merry Christmas from Gannett!)."
The writers listed off a litany of sacrifices the paper's journalists have made in our late capitalist do-more-with-less era of neoliberal local journalism.
"These aren't the sacrifices of an uncaring corporate machine, as some would like to paint us in overly broad strokes," they wrote. "They are the acts of your neighbors, church parishioners, volunteers at your children's schools, and they're replicated daily in newsrooms across the nation. Supporting local journalism means supporting local journalists, whoever they may work for. They're toiling daily on democracy's last line of defense."
Read the whole column at the link above, which carried contributor credits from Coloradoan journalists Sady Swanson, Erin Udell, Molly Bohannon, Holly Engelman, and Chris Abshire.
More details on the Springs Indy's nonprofit transition
Last week, this newsletter previewed big changes at the alternative weekly newspaper in Colorado Springs, along with other newspapers in its local ownership cluster.
This week, the paper dedicated plenty of coverage to its own transition.
"What's coming is a new magazine that combines the Indy with other publications within the company under the name Sixty35 magazine," wrote Sixty35 (née Indy) reporter Pam Zubeck in a news story about the paper's name change and consolidation. "The first edition comes out Jan. 11." (This is the second name change in the past few years. The Indy called itself The Colorado Springs Independent prior to a redesign.)
Here's some more about significant changes to the outlet's distribution model:
Rather than distributing the paper in hundreds of newsstands across the region, Sixty35 Media will place 10,000 free issues of Sixty35 magazine at "the most popular" pickup points in the region. The balance will be mailed to a number of households in every ZIP code in the area; the next week it will be mailed to different households, the third week, to another set of households and the fourth week, yet another batch of households. This mailing cycle will repeat month after month.
Publisher Amy Gillentine put an emphasis on the paper's online product.
"I want to emphasize we have a digital-first stance," she adds, "so the print edition isn't where our main focus should be." The increasing cost of newsprint — it's tripled in two years — "eventually will force a lot of papers to digital-only."
A couple weeks ago, Zubeck called me to weigh in for her piece, which I did. (I've restrained myself from regurgitating it here.)
Elsewhere in this Wednesday's issue of The Indy, Greta Anderson Johns wrote about how John Weiss founded The Indy in 1993 to oppose an anti-gay ballot measure and offer an alternative to a conservative daily newspaper that ignored underrepresented voices in the Springs.
"People who wrote letters to the editor to us, welcoming us to town, got death threats in the mail. We were controversial, because we were in favor of the environment," Weiss is quoted saying in the story, adding, "We were against the war. We were a progressive voice in a town that had never had it."
In a retrospective this week, Weiss, 67, penned a mini-local-media history of Colorado Springs, beginning in 1986 when The Colorado Springs Gazette-Telegraph, which is now The Colorado Springs Gazette, bought and shuttered a paper called the Colorado Springs Sun, "making Colorado Springs a monopoly newspaper town." Six years later, The Gazette-Telegraph, he writes, joined with others in the Springs to support the anti-gay Amendment 2, which voters passed but was overturned by the U.S. Supreme Court in 1996.
"To make a long story very short, with a fresh master's degree in journalism from Columbia University, I was recruited by UCCS Professor Raphi Sassower and my Colorado College classmate Kat (Walter) Tudor to help make Colorado Springs a two-newspaper town again," Weiss writes, adding, "Our mission: to make Colorado Springs a more informed, tolerant, sustainable, authentic, vibrant and welcoming community."
Some highlights of his time with The Indy, he wrote, include:
Launching Colorado Springs' first ever successful quality of life tax, a 0.1 percent sales and use tax to support Trails, Open Space and Parks (TOPS). While we lost on the November 1995 ballot, we came back in April 1997 to pass TOPS by a whisker. … this measure, which The Gazette editorialized against 11 times, has so far raised more than $200 million to protect and expand what makes the Pikes Peak region such a wonderful place to live, work and raise a family. TOPS sunsets in 2025. Hopefully voters will extend it.

The Indy Give! Campaign, which thus far has raised $15+ million, as well as much applause for training small, innovative local nonprofits that do so much for our community
In a column titled "Passing The Indy Torch," Ralph Routon, who has been the paper's executive editor emeritus since 2017, name-checked some early journalists for The Indy. You might spot several names still working in Colorado journalism.
As for the new name of the consolidated weekly magazine, Sixty35, it's a nod to the elevation of Colorado Springs at 6,035 feet. Some on social media Wednesday wondered if most readers will catch the reference.
"This is a subject I know a little bit about," Denver's 5280 magazine editor Daniel Brogan said in a public online Twitter conversation. "They're in for a *long* haul educating the market." He noted some of the feedback he used to get himself: "'52-what?' 'Are you magazine for seniors?' 'Is that your zip code?' We got there (30th anniversary in 2023), and now it's a great asset, but it's not a slam dunk."
Posting on Facebook, Cara DeGette said she was "sad to see the CSIndy — the scrappy alt-weekly I helped found way back in 1993 — is folding." She noted that it's "actually being rolled into a new nonprofit news outfit, along with several other publications. But for many, it's the end of an era."
The print cover of this week's Indy reads: "You say goodbye I say hello."
Denver news anchor raises $10M for charities
Kyle Clark, anchor of the nightly newscast 'Next' on Denver's KUSA 9News, has reached a commendable milestone.
His weekly "Word of Thanks" microgiving campaign surpassed the $10 million mark, helping raise money for 125 charities in the state.
Two years ago at the height of the coronavirus pandemic lockdowns, Clark started the local fundraising campaign. Since then, each week he asks viewers to chip in donations to a new local nonprofit and says how the nonprofit will spend the money. The news anchor personally matches the first 50 small-dollar donations. He once told a crowd of journalists that he's used to seeing a person in a nice suit saying give to this or give to that, and he wanted to ensure he has skin in the game.
Since Word of Thanks began in 2020, viewers helped pay off the school lunch debt in Greeley, provided energy assistance in the San Luis Valley, helped resettle refugees, fund wildfire recovery groups, pay for diapers and other essentials for low-income families, and aided people experiencing homelessness, among a bevy of other initiatives.
"People are doing that five bucks at a time," Clark said during a speech at a Society of Professional Journalists conference in Denver this spring. "They see it as a way to be part of a shared community."
This week, Axios Denver named Clark among one of the eight most influential people in the Mile High City, calling his Word of Thanks program remarkable.
"You created this, this force for good out of nowhere," Clark told his viewers during a recent broadcast announcing the $10 million milestone. "You just made a thing that improves lives every week with the scan of a QR code on a local TV news show."
Kudos to that.
Times Recorder looks at Center Square
Last year, Jason Salzman, who runs the progressive Colorado Times Recorder nonprofit news site, wrote about Center Square.
Center Square is somewhat of a rival nonprofit news site with a different orientation than the Recorder. Like the Recorder, it allows mainstream local news outlets to republish its work with credit. Salzman critiqued some of Center Square's reporting for privileging conservative voices about ballot measures while marginalizing the views of progressives.
From the story last September:
The two ballot-measure stories are among 33 Center Square news articles posted on Colorado Politics since Dec. 2019.
Colorado Politics is the statewide subscription-based insider politics site and newspaper run by Clarity Media, which also owns The Colorado Springs and Denver Gazette.
This week, Salzman had an update to his 2021 story about Center Square. From the item:
Colorado Politics, a digital and print news outlet with a conservative editorial page, has stopped republishing articles from Center Square, a conservative news service that claims to be competing with the Associated Press and other newswires.

The last Center Square article appeared on Colorado Politics' website on Sept. 21, 2021, the day before the Colorado Times Recorder published an article spotlighting 33 of Center Square's conservative-leaning news stories on Colorado Politics' website. The article, which I wrote, cited evidence that some of Center Square's funders, staffers, and content lean to the Republican right — despite Center Square's claim that it doesn't favor conservatives.
Did Salzman have some clear impact that The Colorado Times Recorder can point to in a year-end donor report for why more unnamed progressive donors should continue funding his outlet?
It's hard to say because neither The Gazette or Center Square would tell him. I reached out to Center Square's western editor who punted to the publisher who didn't respond to me, either. I also pinged Colorado Politics Managing Editor Luige del Puerto about it via email, too, but didn't hear back.
Are Colorado journalists staying on Twitter?
As more users, including journalists and communications professionals, flee Twitter following its purchase by Elon Musk and the turbulence that has followed (like the platform dissolving its trust and safety council or suspending the accounts of journalists), I'm wondering how it's affecting media people here in Colorado.
At least one editor of a Colorado news organization said Friday he would not be posting on Twitter for the day.
I'm still on the platform at the moment, though I feel my experience on it is in decline. I've noticed, for instance, I've been missing things on my feed that might be useful for this newsletter that I don't think I would have missed a few months ago.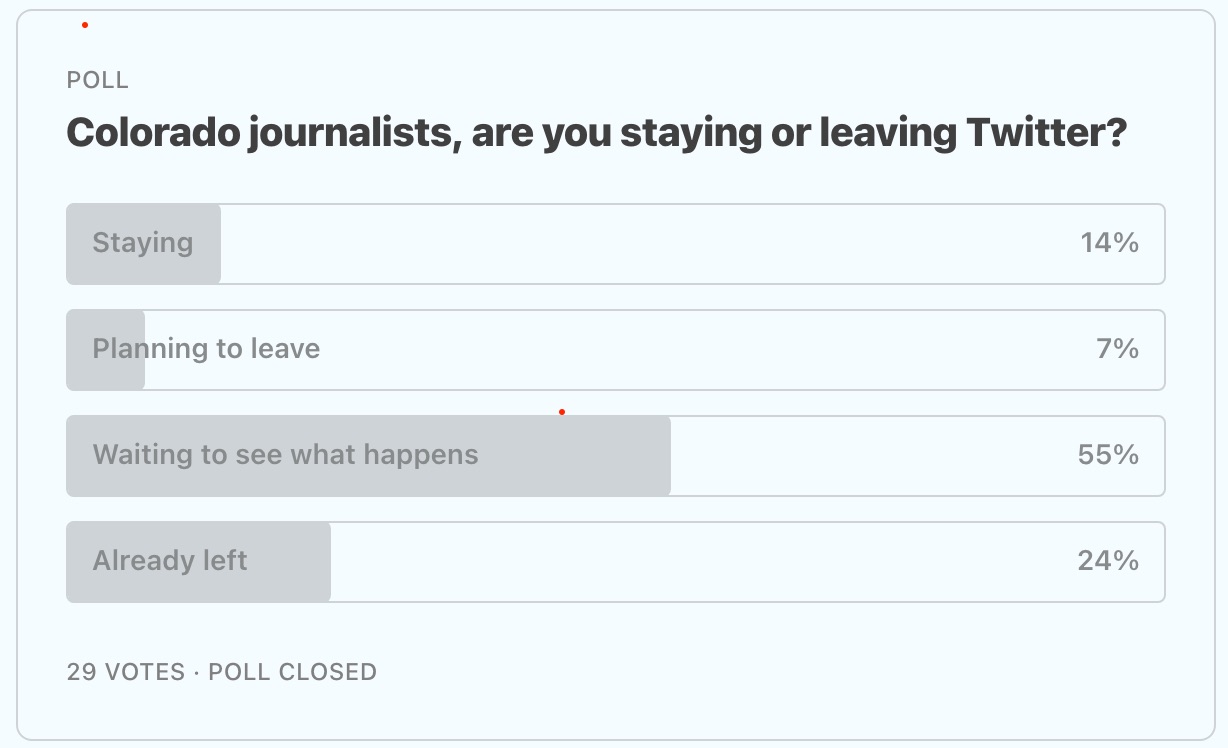 More Colorado media odds & ends
➡️ Between now through the end of December, these33 Colorado newsrooms will receive up to $5,000 from Colorado Media Project, which underwrites this newsletter, in a dollar-for-dollar match during this year's #NewsCOneeds campaign.
🎒 Students from Lewis-Palmer Middle School visited The Gazette newsroom in Colorado Springs. Michelle Karas, the editor of the Gazette-owned Tribune, which serves Monument, Palmer Lake, and Woodmoor, wrote about the experience.
🗞 A new print newspaper, The Florence Reporter, launched in Southern Colorado. "The future of media is up to us," Managing Editor Kevin Mahmalji said. "We don't have to answer to anybody except the community."
🦅 The monthly Crestone Eagle nonprofit newspaper in Saguache County in one of Colorado's most interesting small towns is looking for a new editor. John Waters, who came on six months ago, is moving on in January, according Crestone Eagle Community Media board members. Salary range: $35,000 to $40,000. Send resume and clips to pilgrimage [at] fairpoint [dot] net.
➡️ If readers wonder why a journalist at a local news organization might not publicly criticize something their own news organization did on its opinion page or otherwise, three reporters from a Pulitzer Prize-winning newspaper in West Virginia said this week they were "fired after publicly criticizing an interview conducted by their company president with a former coal executive who was convicted of a safety violation in connection with the worst U.S. mine disaster in decades."
💪 Meanwhile, Ari Armstrong wrote for his Colorado Pickaxe newsletter about why he thinks the guy who runs the news and commentary arm of the libertarian-leaning think tank Armstrong writes for is "wrong about transgender pronouns."
⚙️ Blair Miller is leaving The Denver Channel (and TV news altogether) to join The Daily Montanan. "I'll be a reporter covering government, politics, climate and more," he said. "I'm thrilled about the job and the team I'll be working with." (The Daily Montanan is one of the States Newsroom sites; one of its sister sites is Colorado Newsline.)
📬 From the vile-emails-Denver-Post-reporters-sometimes-get file this week.
👀 The American Journalism Project is launching "a local news incubator. The program is intended to support entrepreneurs who want to explore launching a new nonprofit local news organization to serve their communities."
⛰ "Our region is uniquely positioned to serve as a model for national media conversations as the coalition's work continues," wrote Allison Alexander of the Aspen Community Foundation about The Roaring Fork Valley Regional Spanish-Language News Collaboration.
🏆 "The Block Plan," a documentary directed by Steven Hayward about Colorado College's unique academic calendar, recently won Best Film at the Helsinki Film Festival.
🧪 The Local Fix at the Democracy Fund's Local News Lab spotlighted "media mapping in Colorado" in its newsletter today where they offered "Cheers to emerging local news ecosystems."
I'm Corey Hutchins, co-director of Colorado College's Journalism Institute. For nearly a decade I've reported on the U.S. local media scene for Columbia Journalism Review, and I've been a journalist for longer at multiple news organizations. The Colorado Media Project, where I write case studies, is underwriting this newsletter, and my "Inside the News" column appears at COLab, both of which I sometimes write about here. Follow me on Twitter, reply or subscribe to this weekly newsletter here, or e-mail me at CoreyHutchins [at] gmail [dot] com.