Another mass shooting in America, this time at Club Q in Colorado Springs, a longtime LGBTQ+ bar where a suspect on Saturday killed five during a drag show and left more than 15 others injured.
Here's how Colorado's two largest newspapers presented the news Monday on their front pages: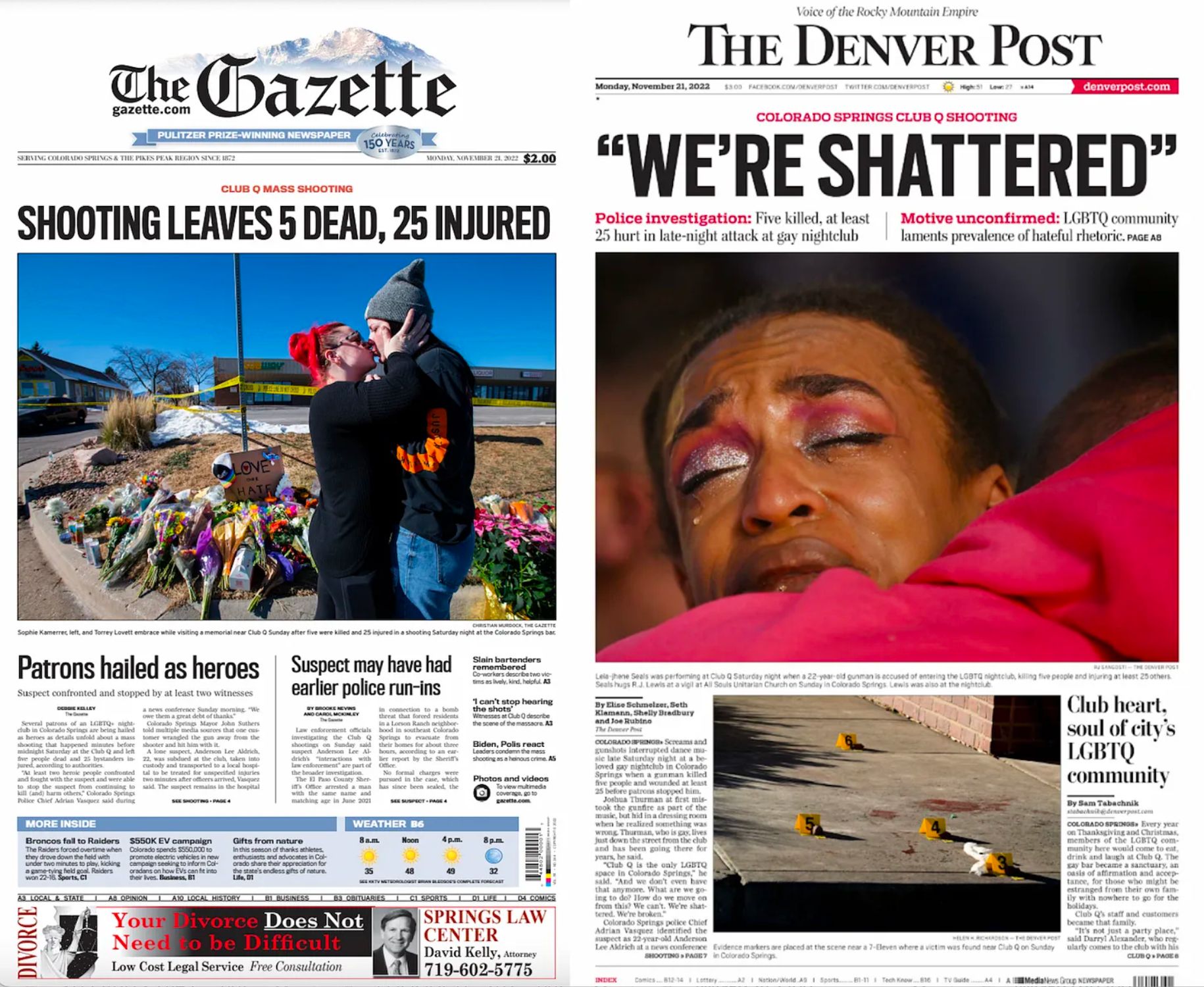 Colorado media are all too accustomed to covering mass shootings, and journalists and their newsrooms have too much practice on this beat.
We were already talking about our state's unique and unwelcome designation following a previous mass shooting in Boulder last March. (And that wasn't even the latest one.) Since moving to Colorado eight years ago, this is the fifth mass shooting I've had to write about, either for state or national news outlets or in this newsletter. Three of them were in Colorado Springs where I live — and there was at least one more in this city that I did not cover.
Once again, in print, online, over the radio, on TV, and elsewhere reporters stepped up, following an unfortunately familiar playbook: Scramble for initial details, interview witnesses (in this case, including those who acted heroically), cover press conferences and vigils, provide context about the location or circumstances (in this case a haven for the LGBTQ+ community amid a rise in anti-trans rhetoric in a city with a haunted history of anti-gay sentiment) identify victims, excavate the background of the suspect (in this case, including his mother, and previous notable incidents involving them), highlight efforts to help those impacted, profile victims, challenge local governments for access to public records, and interrogate the potential breakdown of any structures that might have prevented it all (in this case Colorado's red-flag gun law.)
The Club Q shooting has saturated coverage in recent days. National media have focused attention on the Springs and are likely to do so for the initial court actions, and then it will recede. (Already, another mass shooting in a Virginia Walmart has left six dead.)
Below are a handful of developments I found notable from an insidery media perspective amid the reporting of this latest one in Colorado.
🎙 Heidi Beedle, a trans journalist who lives in Colorado Springs, has been doing important reporting in recent years on far-right extremism in Colorado, previously for The Indy alt-weekly in the Springs and now for the statewide progressive nonprofit Colorado Times Recorder. This week she found herself reporting on a mass shooting in her home city involving her own community. She remembers one of the victims who went to the high school where she previously taught. Beedle appeared on City Cast Denver and talked about her experience as a trans journalist and parent in this moment.
🏳️‍🌈 Jess Hazel, KRCC's new Morning Edition host who came to Colorado Springs from Montana in September, said Monday's show was "one of the hardest" for the journalist personally. "I'm new to the Colorado Springs community but this pain feels so personal as a non-binary bisexual person," Hazel said. "This is the first mass shooting I've ever talked my listeners through … I'm honored and humbled to share the grief that comes from these tragic deaths with both my new community in Colorado Springs and my LBGTQ family."
📞 The Colorado Springs Gazette is the daily newspaper of record for the city and it activated reporters from its sister paper in Denver to its coverage area an hour south. Last year, the paper had reported on a man with the same unusual name (and the same age) as the person police arrested in the shooting. Police had arrested the man last June, The Gazette reported, "after deputies responded to a report of a bomb threat from the man's mother, who said her son had made threats with a homemade bomb, several weapons, and ammunition." But "no formal charges were pursued in the case," which has since been sealed, the 4th Judicial District Attorney's Office told The Gazette's Brooke Nevins and Carol McKinley this week. Furthermore, the newspaper reported a man last year called an editor of The Gazette to ask "that the story on The Gazette's website be removed since the case was dropped." In a voicemail, he said, "There is absolutely nothing there, the case was dropped, and I'm asking you either remove or update the story." That's notable given that some Colorado newsrooms have adopted elements of the "Right to be Forgotten" movement in which editors might remove a name from a past story if the subject of it can show a case has been adjudicated in their favor. The Gazette'sNevins published a recording of the voicemail on Tuesday along with a story about about how the newspaper handled the call and request. The name no longer appears in the original story, and The Gazette reported the paper "removes names from its archives only in rare circumstances when information is inaccurate or outdated."
Here's the cover of the Colorado Springs Indy alternative weekly, which came out Wednesday: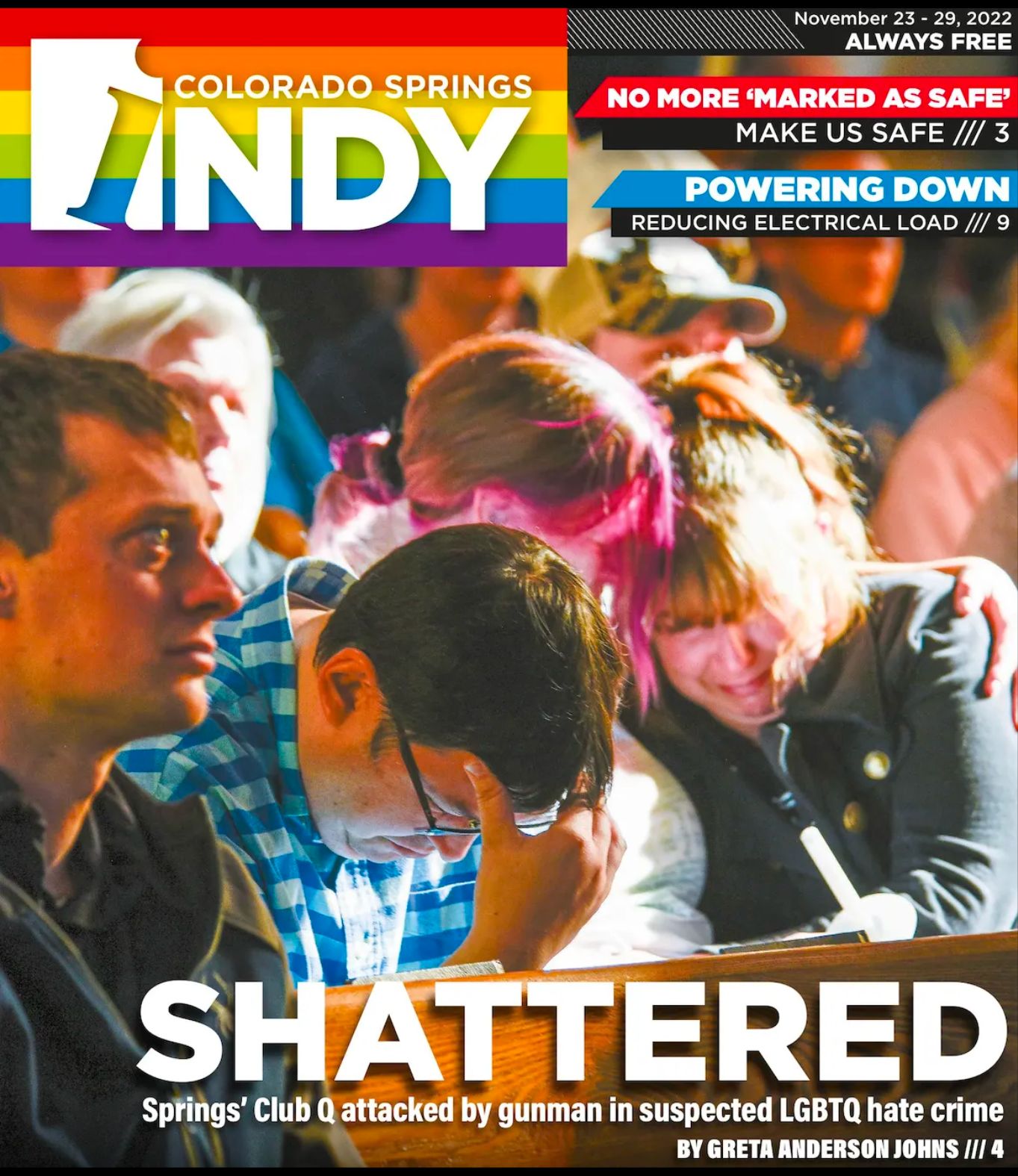 📰 A compelling feature in The New York Times about Colorado Springs by writers including Dave Philipps and Noel Black, two reporters with long ties to the city, included this: "Since the 1990s, the growth of gun ownership, particularly ownership of military-style rifles like the one used at Club Q, has soared across the country, and Colorado Springs is no exception. The local newspaper runs a weekly front-page ad selling assault rifles and silencers." (Note: the same paper has declined to take cannabis ads on principle.)
📱 National and local media leapfrogged the county coroner and authorities in publishing the names of some of the victims killed, citing co-workers, family members, and "social media posts." The move could signal an acknowledgment of shifting standards in the social media age where credible news organizations must compete with, and act as authenticators for, everyone else who is posting information online during breaking news events. The Springs police said they were taking extra time with family members of victims to make sure they got pronouns correct before making official announcements.
👀 Media reported Tuesday evening that the suspect's attorney wrote in a legal filing the suspect identifies as nonbinary and uses they/them pronouns. Colorado Springs journalist Rebecca Hopkins quoted a former neighbor and friend of the suspect in The Daily Beast saying the suspect frequently used anti-gay slurs. (The same person, though, told Denver CBS4's Rick Sallinger that he only heard the suspect use an anti-gay slur once, but also told Kelly Reinke of 9News that he was "pretty sure at one point [the suspect] expressed he hated the LGBTQ community, he hated gays," and told the reporter about the accused shooter, "this is not the type of person I would take around my gay friends.") The suspect is charged with murder and hate crimes.
The rest of this newsletter is a roundup of news behind the news in Colorado separate from coverage of the shooting…
⚖️ In briefs filed this week with the Colorado Court of Appeals, the Colorado Freedom of Information Coalition and the editor of the Crested Butte News spell out reasons why they think a judge "erred in ruling that a Colorado statute shields the identities of people who want certain books reclassified or removed altogether from library shelves."
⛔️ Days after Kyle Harris of Denverite reported that the Denver Rescue Mission bans employees from "acting on same sex attraction" and rejecting one's "biological sex," the Christian nonprofit reversed its policy. The Rescue Mission has an $8.7 million contract with the Department of Housing Stability.
📉 Gannett, the nation's largest newspaper chain, which owns The Coloradoan in Fort Collins and The Pueblo Chieftain along with papers in 44 other states, announced last week "another round of job cuts in the company's news division after a third-quarter loss and an earlier series of cost-cutting measures."
🐦 Citing "the uncertainty around Twitter and out of an abundance of caution," CBS News decided to pause its activity on the social media platform, Jonathan Vigliotti, a CBS News national correspondent, said on air last week. In Colorado, on Nov. 18, Denver's CBS4 anchor Jim Benemann posted: "The folks at the CBS mothership are telling us to stay off Twitter while Elon and CO. figure things out." CBS journalists were back to posting a day or so later.
🆕 Colorado College's State of the Rockies project recently launched the inaugural edition of a new student-led magazine called Anthropogenic. An announcement read: "The magazine features articles about recent student projects for State of the Rockies, including mapping the dark skies of the Rocky Mountain West, research on the oil and gas industry in Colorado, and photos from the 2022 Conservation in the West Student Photo Contest."
🎥 "The importance of a robust, independent and principled media was made urgently clear throughout the 45th Denver Film Festival," John Moore wrote in The Denver Gazette. "There were stirring dramas about journalism, revealing documentaries about journalists and many essential docs produced by journos themselves. There was even a panel discussion about the existential threat that changing consumer tastes, willful anti-intellectualism and a certain ex-President who declared the news media to be 'the enemy of the people' pose to one of our only two constitutionally protected industries (the other being religion)."
📱 Flashback to the future: Watch Roger Fidler from Knight Ridder's former Information Design Lab, which was based in Boulder, talk about the future of digital newspapers on screens in 1994. It's pretty incredible for its prescience.
🤺 Lawyers "clashed" in the Colorado Court of Appeals last week "over whether the state's Children's Code prohibits the Colorado Department of Human Services (DHS) from publicly releasing aggregate statistics about child-abuse hotline calls made from licensed residential care facilities," reported The Colorado Freedom of Information Coalition.
📍 Bookmark this: "Reimagining the public square: What's happening in Colorado's information ecosystem right now."
⚙️ Rob Tann is leaving Colorado Community Media for The Summit Daily News to cover "education and housing in the heart of the Rocky Mountain region," the reporter said.
⏮ In case you missed last week's edition of this newsletter: Hispanic publishers from across the U.S. convened in Denver, a Colorado newspaper scrapped its entire print run — after the paper went to press, a producer's "poor word choice" led a Denver TV station to say Dems 'steal' the Senate, the Greeley Gadfly local news Substack newsletter will launch next month, and a CPR host responded to a listener who wanted her to sound "normal."
📌 Check out the Colorado News Mapping Project and fill out the form to add a source to the map or let us know if we should update something already on it.
🎙 Dan Boyce of Colorado Public Radio interviewed Ted Conover, author of the new book "Cheap Land Colorado: Off-Gridders at America's Edge," about buying land and living in the San Luis Valley and immersing himself in his journalism.
👻 Earlier this month, the small Mountain Mail newspaper in Salida encountered a peculiar problem on its opinion page. Managing Editor Paul Goetz penned a Nov. 4 column to readers explaining how the paper had been publishing letters from "a writer who might not exist." The paper tried to verify the particular writer's identity and could not, telling readers, "we have no choice but to ban or exclude all further letters to the editor from this individual."
🗣 "Earlier this year, the U.S. Supreme Court agreed to hear 303 Creative, LLC v. Elenis, an appeal brought by a Colorado website designer who claims she has a First Amendment right to refuse to make websites for same-sex weddings," Reuters reported. And now, "the case is shaping up to be a free speech blockbuster."
⏪ In case you missed the Nov. 10 edition of this newsletter: Win or lose, Colorado's Lauren Boebert once again confounded the state press corps, local media linked up to "better cover the Hispanic community" in the Roaring Fork Valley, and a Colorado journalist talked about her dyslexia.
I'm Corey Hutchins, co-director of Colorado College's Journalism Institute. For nearly a decade I've reported on the U.S. local media scene for Columbia Journalism Review, and I've been a journalist for longer at multiple news organizations. The Colorado Media Project, where I write case studies, is underwriting this newsletter, and my "Inside the News" column appears at COLab, both of which I sometimes write about here. Follow me on Twitter, reply or subscribe to this weekly newsletter here, or e-mail me at CoreyHutchins [at] gmail [dot] com.