In recent years, much of Colorado's local media scene has embraced a new orthodoxy of collaboration over competition. But the state's lone billionaire-owned news outlet is taking a different position — and taking its gloves off.
The Denver Gazette, owned by the publicity-shy conservative tycoon Phil Anschutz, this week launched a series of digital attack ads against The Denver Post. The move takes the outlet's effort to lure away subscribers from the Alden Global Capital hedge-fund controlled newspaper to a new (and more personal) level.
"Leave the Post in the Past," reads one ad featuring an image of a crumpled-up print newspaper. "Looking for reliable local news? Click here for news you can trust. We're NOT The Denver Post," reads another. "The Denver Gazette is different from the predictable, partisan news that pushes a political agenda," reads a third. "Read news that covers issues that matter." Search "Denver Gazette" on Google, and you might be served a "Leave the Post in the Past" ad along with this text: "Finally, a news source that delivers what it's supposed to: news. Ditch news outlets that only push agendas and partisan politics. Denver news. Responsible coverage."
That's not all. As part of its ad blitz, The Denver Gazette employed the phrase "News Matters," which is a slogan of The Denver Post's labor union, serves as the hashtag Post employees rally around and wear on their T-shirts, and was the headline of a 2018 Denver Post editorial that railed against the newspaper's own hedge-fund owner after another demoralizing round of newsroom layoffs.
Vince Bzdek, editor of The Denver Gazette and its sister paper in Colorado Springs, says the ad campaign has his full support. The campaign's messaging is meant "to distinguish ourselves, and communicate that Denver has an alternative news source," he said via email. "We talk to and understand our subscribers, and many are former and disenfranchised Post readers. So it stands to reason that, with part of our overall campaign, we would compare and contrast ourselves to them and let the reader decide for themselves." About using the "News Matters" line, he said it's a small part of the messaging, "but when we use it, we mean it literally — what we all do is important and makes a difference. It has nothing to do with someone else's 'slogan'." He added that these digital ads are part of a broader upcoming multimedia campaign to attract readers. So look out for that.
Three years ago, Anschutz's Clarity Media launched The Denver Gazette as a digital sister paper to its print broadsheet in Colorado Springs to plant a flag in the state's capital city. (Seven years ago, Clarity created Colorado Politics as a statewide subscription-based outlet, buying and absorbing The Colorado Statesman newspaper in an effort to establish primacy in Colorado political journalism.)
At the time of The Denver Gazette's launch, I described the development as "half a newspaper war" because the Gazette wasn't using a printing press, opting instead for an online product that it called an "interactive newspaper." It's no secret Anschutz wanted to buy the Post — but the Post wouldn't sell. My sense has been the approach has pivoted to: if you can't buy 'em, beat 'em. Hence a campaign to actively siphon off Post subscribers. Not on the grounds of price, mind you, but rather on content.
Alongside these recent jabs from The Denver Gazette's digital advertising side, the paper's editor, Bzdek, who is a veteran of The Washington Post, has sought to cast other outlets in Denver as biased. In September, he penned an editorial in The Gazette vaguely accusing The Denver Post, The Colorado Sun, Westword, and Colorado Public Radio as producing journalism that was somehow different than The Gazette's. In an interview at the time, he declined to offer examples of news coverage he felt backed up the assessment, but said he feels the outlets he name-checked lean liberal in their coverage.
Since it launched, The Denver Gazette has built a solid news team that has produced accountability journalism and has likely moved the needle on public affairs. The outlet comes with an opinion section that is likely to appeal to a segment of Colorado's population that watches Fox News and the constellation of conservative channels and sites that orbit it. The Denver Gazette and its mothership in the Springs have lured reporters from The Denver Post and elsewhere to join it, and have also seen its reporters defect to the Post, The Sun, or elsewhere in recent years.
Neither the Denver Post's editor and or a newsroom labor union rep wanted to weigh in for this item. Reacting to this recent anti-Post ad campaign, one former Denver Post journalist said he believed The Gazette is "thirsty for a rivalry that doesn't exist." A current Denver Post reporter said he believed such messaging from The Gazette "may have a small audience" but it "would've had a much larger one if it were 2009 or 2010 and the Rocky had just closed." Back in the days of a great real newspaper war in Denver, The Rocky Mountain News ran TV commercials that attacked the Post as a lesser newspaper — including one that used a bird cage as a prop. (Interestingly, Anschutz quietly bought the rights to the Rocky's name, URL, and other intellectual property when it closed in 2009; in 2014 his company floated the idea of reviving it.)
Instead, in 2020, what burst on the scene was The Denver Gazette. Billboards for it started popping up across the city. They did not mention The Denver Post, but simply read "Better. Balanced. Denver." Now it is naming its mark explicitly.
As The Denver Gazette runs its latest advertising blitz against The Denver Post, including posturing that The Gazette is somehow a higher form of news than its competition, I wonder if I'm blowing it out of proportion when I mention a particular vulnerability I've raised before. Last year, The Denver Post, along with multiple other news outlets in Colorado, reported on a tax lawsuit Anschutz and his wife filed against the state of Colorado that seeks to gain them a roughly $8 million refund. (The couple initially tried to keep that figure secret.) A judge has rejected the lawsuit, and the couple has tried to revive it through an appeal. The Colorado Sun reported the tax lawsuit, if successful, could have "big financial consequences for the state."
The Denver Gazette, along with Anschutz's other news outlets in Colorado, conspicuously did not report on it. It's just one thing of course, but whether such news judgement is in line with The Gazette's marketing (and journalistic) message of covering the "issues that matter" is something audiences might consider as they assess the ways different outlet's approach the news. (Gazette Editor Bzdek said last fall, "our owner does not control or engage with us in news coverage at all," when I asked about it, which makes me wonder if an owner might not always have to.)
And while that's something you are not likely to see on a billboard or in a digital ad campaign, it does speak to a message about the importance of having multiple alternatives in the Denver market. Whatever they are.
CBS Colorado says Romi Bean is 'first female main sports anchor' in Denver's TV market
CBS Colorado announced this week that it has named Romi Bean as KCNC's sports anchor for the 5 p.m., 6 p.m., and 10 p.m. broadcasts.
"Romi is the first female main sports anchor in the Denver television market," CBS Colorado Vice President and News Director Kristine Strain said in a statement. "She knows Colorado sports and fans love her."
More from the announcement:
Unlike most in the business, Romi did not go to school for communications or journalism. She graduated from the University of Colorado — Leeds School of Business, but writing and journalism have always been her passion.
The move comes after anchor Jim Benemann announced his retirement, and main sports anchor Michael Spencer slid in to take his place. "That of course meant we had to find someone to replace me," Spencer said on air this week in announcing his own replacement. "Romi is breaking barriers in this process," Spencer went on, saying, "we believe this will make her the first woman to serve as the main sports anchor here in Denver."
"Most of the people you see anchoring sportscasts, covering sports stories and announcing sporting events are men," CBS Colorado general manager Tim Wieland said, according to TVSpy.
Bean thanked CBS Colorado management for encouraging her to "break barriers and giving me the opportunity to show young women and girls that sports are for everyone."
Denver TV stations handle story of DIA human trafficking claim quite differently
When an Ohio woman named Madison Herman told Denver TV stations she believes she was drugged at the Denver airport and nearly kidnapped in a human trafficking plot, the stations placed the story into two widely different contexts.
In the first story, KMGH Denver7 and its journalist reported the story without skepticism and the anchor-desk lead-in to it framed the broadcast in the broader context of increasing complaints by Denver women who say they are being drugged at area watering holes. Here was a line from the Denver 7 story: "Although there are still many questions about what happened, Herman is sharing her experience to help others."
In the second story, KUSA 9News and its journalist offered skepticism of details about the woman's claims and framed it in a broader context of how anti-trafficking advocates say such crimes typically occur. Here are excerpts from from the 9News story:
Herman said she believes she was drugged on Jan. 6 by a bartender at the airport who was working with a woman and at least three men. Herman said the men determined which flight she was on, purchased tickets, and sat around her in first class. Herman said she believes a flight attendant may also have been involved in the human trafficking ring. …

Herman told 9NEWS she believes she was targeted because she uses crutches. Herman said she was injured by the COVID vaccine in 2022. In a May 2022 video posted to Facebook, Herman's legs shake in a similar manner to videos posted on social media with the hashtag #ThanksPfizer. … In her online post, Herman is wearing a shirt with the logo of the controversial anti-sex trafficking group Operation Underground Railroad. The group, known for its undercover stings, has faced years of scrutiny for its methods and claims.

Several anti-trafficking experts in Colorado, speaking about the topic generally and not this specific claim, said that stranger abductions are rarely seen in human trafficking and that sensationalized stories complicate their work. "I think it does fuel misconceptions about human trafficking and make it more difficult for people to understand what human trafficking does really look like," said Maria Trujillo, head of Colorado's Human Trafficking Program.

Trujillo said advocates are frequently batting down myths and online rumors about strangers abducting people from parking lots to force them into servitude or people being trafficked in bizarre schemes, like the conspiracy theory that people were being moved around in furniture sold by an online retailer.
The difference in the reporting process here on local TV in Denver is an example of how framing stories and putting them in a certain context can provide audiences with a very different understanding about a story that includes the same set of facts.
$350K will flow to advance 'equity and inclusion in local newsrooms' in Colorado
Colorado Media Project, which underwrites this newsletter, has announced it will give $352,640 in 27 separate grants that will "support Colorado newsrooms, journalists, and media entrepreneurs in launching new projects and strengthening existing efforts to build a more inclusive local news ecosystem that reflects and serves Colorado's diverse communities."
From the announcement:
Recipients of Colorado Media Project's 2023 Advancing Equity in Local News grants will address three overarching priorities identified by community members and journalists of color through the Voices Initiative, led by Colorado News Collaborative with support from Colorado Media Project since 2020:
Support internal efforts to strengthen diversity, equity and inclusion (DEI) in Colorado newsrooms;
Strengthen connections and build trust between Colorado newsrooms and the diverse communities they serve; and/or
Support more diverse and inclusive civic news leadership, entrepreneurship, ownership and narratives.
"2023 is the second year of CMP's three-year Advancing Equity in Local News grant program, which in 2022 awarded a total of $277,150 to 19 projects," CMP states. "This year's grantees were selected from a competitive pool of 42 applicants requesting a total of $970,990 for projects dedicated to the fund's three priorities – indicating a broad commitment from Colorado newsrooms to build a more inclusive media ecosystem statewide. At least one more round of funding will be made available for new or continuing work, with applications opening in Fall 2023."
Find out where specifically the money is going and to what newsrooms and projects at the link above.
Michael Roberts is 'stepping away from journalism' after 30 years at Westword
"The decision was mine, the timing seems right, and I feel very grateful," wrote Westword staff writer Michael Roberts who has written for the Denver alternative weekly in multiple roles for 32 years.
In one of those roles, Roberts covered Denver's media landscape as a columnist. From his first-person piece this week: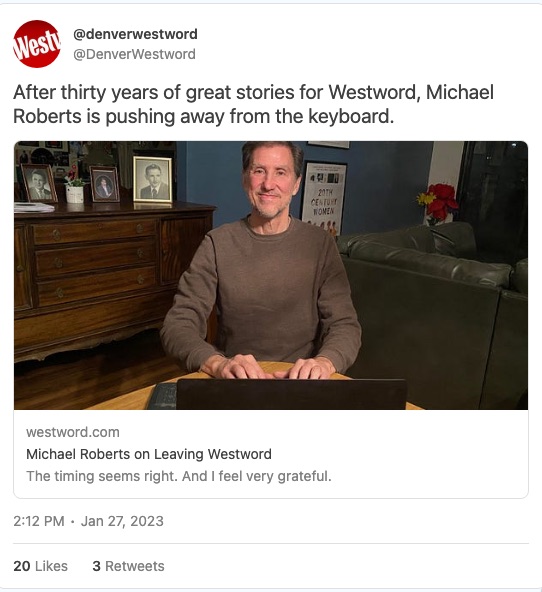 Change came in 1999, when I was asked to shift my focus. I could still contribute to the music and news sections (and I did on a weekly basis for many years), but my main charge would be a media column in which I would chronicle and explore the local broadcast and print industries. At the time, both the Denver Post and the Rocky Mountain News ran media columns, but their content was generally quite polite, in part because most area publications, radio and TV stations and so on had interlocking allegiances. Since Westword wasn't part of conflicting business relationships like these, I was under no such restrictions[.]
The journalist says he might still contribute to Westword, but wants to be more present with his family. "At present, though," he wrote, "I'm seeking work that is less likely to pile on the sort of baggage that tends to jolt me awake in the middle of the night."
More Colorado media odds & ends
➕ I updated the published version of last week's newsletter after I heard from a Denver Post reporter about her experience interviewing the governor after his State of the State address in the item about 9News saying there was a "precondition." Like others quoted in the item, her version of events differed from the experience of 9News and how the station described the situation.
☄️ "I think it's important for reporters to mention climate change when they write about extreme weather to give readers the context that these events are more likely to occur as the planet warms," Denver Post reporter Sam Tabachnik told The Colorado Times Recorder, which analyzed news coverage of a recent record-breaking cold snap in Denver. "This is not a 'both sides' topic." (Read the story to learn what a CU Boulder journalism professor had to say about incorporating climate change into extreme weather coverage.)
🔎 Mother Jones is seeking an assistant copy editor it will pay $55,000 to $65,000 "to help with quality-control duties across our products." The position is remote.
😳 How about this line from a Durango Herald editorial about a lawyer and a potential lawsuit: "We asked Roane for comment. In an email, he responded with, 'I'd like to tell you to f—- off.' Roane did not file a lawsuit by press time." (Background on the local situation here. The actual email to the editorial page editor read "I'd like to tell you to fuck off, Ms. Swan.")
🔀 Aspen Daily News Editor Megan Tackett, who won the Colorado Press Association's First Amendment Award in September, is leaving the paper for a job as operations director of a local development company. Current Managing Editor Andre Salvail will take over as editor-in-chief. "ADN has brought on former Aspen Times arts editor Andrew Travers to be the contributing editor for the media company's luxury and lifestyle magazine, Aspen Local," the paper reported.
📧 Department of analytics: I was checking out email trends of this newsletter's audience. Many of its more than 2,200 subscribers use their work or business email. For personal ones though, Gmail dominates at around 850. About 75 of you are using Yahoo accounts, about 50 use AOL, about 40 Hotmail, 30 MSN, around 20 use Me or Outlook, and about 15 are using an icloud email address.
🗣 Veteran arts journalist John Moore, who writes for The Denver Gazette, interviewed his former Denver Post colleague, John Hendrickson, about Hendrickson's new book titled "Life on Delay: Making Peace with a Stutter." (Hendrickson wrote the 2020 Atlantic magazine story about Joe Biden's stutter.)
📕 "John Peel's new book, "The Ballantines: Building Community Issue by Issue," reveals the "Ballantines' smoke-shrouded, alcohol-fueled backyard gatherings were a Durango institution that brought together business and community leaders with thinkers and the newspaper publishers to hammer out the issues of the day," reported Jonathan P. Thompson in a review in The Durango Herald.
🎥 Julian Rubinstein, author of the book and documentary "The Holly," told The Denver Gazette "he will speak publicly for the first time about becoming what is believed to be the first journalist accepted into Colorado's address confidentiality program because of ongoing threats against his life" at a special Saturday film screening sponsored by the NAACP at History Colorado.
💵 "FOX21 took home the trophy for the much-anticipated 'Media Brawl at WhirlyBall,' on Sunday, Jan. 22, defeating X1039, all for a great cause," the Colorado Springs TV station reported. "All proceeds of the event, which at last check were about $2,500, will go directly to supporting Inside Out Youth Services (IOYS) and its mission."
📌 Check out the Colorado News Mapping Project and fill out the form to add a source to the map or let us know if we should update something already on it.
⚙️ Westword is looking for a full-time staff writer it will pay $50,000 to continue its "record of hard-hitting reporting." Boulder Reporting Lab needs a newsroom editor "to help grow our editorial team and raise the level of impact at a critical and thrilling time for our new nonprofit newsroom" ($65,000 to $85,000). The Boulder Daily Camera will pay a police, courts, and breaking news reporter $20 an hour and an "experienced features reporter" the same wage. The Durango Herald is looking for an "experienced wire/copy editor and page designer" it will pay $42,000 to $48,000. The Telluride Daily Planet needs a general assignment reporter but isn't listing a salary range despite a new state law that requires it.
I'm Corey Hutchins, co-director of Colorado College's Journalism Institute. For nearly a decade I've reported on the U.S. local media scene for Columbia Journalism Review, and I've been a journalist for longer at multiple news organizations. The Colorado Media Project is underwriting this newsletter, and my "Inside the News" column appears at COLab, both of which I sometimes write about here. Follow me on Twitter, reply or subscribe to this weekly newsletter here, or e-mail me at CoreyHutchins [at] gmail [dot] com.