After nearly 75 years, KLMR, a local radio station serving the area around Lamar on Colorado's Eastern Plains, has hung up its call letters and surrendered its license to the FCC, according to media reports.
The move comes about two months after the station said a summer microburst storm tore through its roof, and, according to one report, knocked out its broadcast towers. "The loss of KLMR and KLMR-FM leaves Beacon Broadcasting Country 105.7 KVAY as the only commercial FM audible in the Lamar area," according to Radio Insight, which covers the broadcast industry and first reported the news. The site reported a station engineer gave a statement to the FCC calling the studios "a complete loss" that left them "unable to restore service" for KLMR's AM and FM channels; included in the FCC statement was a request to "cancel both licenses, return spectrum, and release call letters."
Before the storm, the KLMR stations had been serving Lamar and surrounding areas "with news talk/agriculture news and local news and sports," reported The Kiowa County Independent in a recent story re-published by The Fence Post, a Greeley-based newspaper dedicated to agriculture news.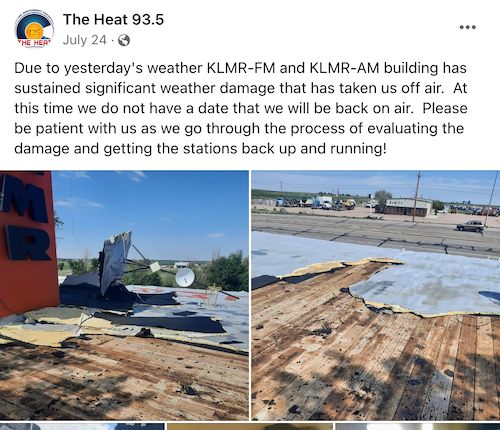 In an interview this week, Ty Harmon, who ran a morning show and news program about agriculture and worked at KLMR since 1989, called it the "go-to station for generations." His own father worked there before he did. "For me it was my home," he told me.
Since the storm, he said he's been working at KVAY, which is more of a music station but does some local news and sports, and carries an hour-and-a-half show about agriculture. "We're trying to pick up the slack as much as we can," Harmon said, adding at another point in the conversation that "radio is basically the source of news in Southeast Colorado."
People around Lamar have noticed an absence of the self-described "Voice of the high plains" since the station blinked off the air in late July.
Cheri Aguilera, a youth services librarian at the Lamar Public Library who has lived her whole life in the area, said over the phone this week that a lot of local farmers in particular relied on the station for relevant news and information. "It was the heart of the community," she said. "They just had all the news; they had people on there from the community when there was stuff going on. It just had everything."
The development in Lamar led one area newspaper, The Plainsman Herald in Springfield, located in Colorado's most south-eastern county of Baca, to call it an "interesting reminder of the precarious position of local news and content."
More from The Plainsman Herald about the demise of KLMR:
The report has been accompanied by a plethora of online chatter and commentary, which ironically reinforces the notion that times are changing for local news, and it brings a personal reminder that the only reason this paper is still rolling off the presses, is that you the readers and advertisers of this local paper have shown a commitment to keeping this publication, The Plainsman Herald, alive.
Justin Sasso, president and CEO of the Colorado Broadcasters Association, lamented the loss of what he called a "legendary" Eastern Plains radio station.
"My heart goes out to the generations of broadcasters who put their heart and soul into building and operating the stations, only to have them wiped out by a microburst," Sasso said in an email. "Thankfully, KVAY still operates in the area and will continue to keep Lamar and its surrounding communities entertained and informed."
Denver Post's hedge-fund owner says no more endorsements. Here's the effect on Colorado
Newspapers in Colorado are starting to roll out their endorsements for the upcoming November elections, including papers financially controlled by the Alden Global Capital hedge fund. That entity oversees roughly a dozen newspapers in Colorado, including its statewide flagship The Denver Post.
On Thursday, The New York Times reported Alden is set to announce its papers will no longer make endorsements for president, U.S. Senate, and races for governor. Alden is the second-largest newspaper publisher in the nation with about 200 titles. Gannett, the largest, recently pushed for less opinion in its own papers. (Last week, this newsletter reported how the Colorado Springs Indy alt-weekly newspaper's switch to nonprofit status means it will no longer endorse political candidates. )
The Times reported Alden papers planned to publish an item about their new endorsement policy that was slated to read, in part: "with misinformation and disinformation on the rise, readers are often confused, especially online, about the differences between news stories, opinion pieces and editorials."
Megan Schrader, the opinion page editor of The Denver Post, said Friday in an interview that nothing is changing at her paper this year. "Our endorsements are going forward as always," she said. "We will endorse in the U.S. Senate race, governor's race, all the statewide constitutional offices, the U.S. House races, on down the ticket."
Schrader said she has been told the Post cannot endorse in the governor's race in 2026 or the U.S. Senate race in 2027.
"I disagree with the decision," she said over the phone Friday afternoon. "I think that those are statewide races and The Denver Post is a statewide newspaper. We have always weighed in on those races." (In 2020, the Post's editorial board chose not to endorse in presidential races as part of a step back from national politics in general.)
Schrader said other Alden-owned papers in Colorado have been told that if they have not already endorsed in the governor's race or U.S. Senate race then they cannot.
This week, writing in Harvard's Nieman Lab, a pair of journalism professors who interviewed 64 U.S. journalists for a study, asked whether news outlets shouldstill endorse political candidates.
From the piece:
Some reporters told us that sources had asked them why they'd endorsed the other candidate. The journalists would find themselves clarifying that they hadn't endorsed anyone — their editorial board had. As one journalist put it: "Nobody knows the distinction between the editorial board and the reporters, and that's our fault for not telling them. Every four years we shoot ourselves in the foot." Another noted: "Political parties like to bash some news organizations, leading to viewers believing a news organization is biased." Endorsements, he added, "can exacerbate those preconceived notions."
One of the researchers told me at least one of the 64 journalists they spoke with worked for a newspaper in Colorado.
The largest newspapers in Colorado, The Denver Post and The Colorado Springs Gazette, have a notable history with endorsements. Both of them have found themselves rescinding endorsements they've made in recent years. In 2017, the Post acknowledged very publicly that its editorial board's endorsement of Republican U.S. Sen. Cory Gardner was a mistake. In 2018, The Gazette's editorial board initially endorsed a ballot measure to change the state's Constitution involving property rights, but then decided (before the election) that it had goofed.
In my own community, last year, when five candidates were running for a city council seat to represent parts of downtown Colorado Springs, The Indy endorsed one of the candidates and The Gazette endorsed someone else. Notably, neither of them won. The candidate I voted for did — and it left me wondering what to make of that. Are the papers out of touch with my community, or did they just not have the juice to move the needle?
In the Nieman Lab piece, the authors wrote: "Beyond issues of wellbeing and audience concern, the journalists we interviewed also indicated that endorsements aren't particularly effective. In the words of one journalist, endorsements are likely to 'affect the public's perception of newspapers more than their perception of candidates.'"
For her part, Schrader acknowledged that it can be a struggle to educate the public about the difference between news and opinion, but she said she believes the interviews the Post conducts for its endorsements "probably serve a higher democratic purpose than the endorsement that comes from them — just because we are able to really drill down on issues and get specifics in a way that you don't even in debates these days."
FCC wants documents about employment and local news from Denver's 9News buyer
Earlier this year, a top shareholder and a hedge fund announced it was buying Tegna, the large national TV station operator that owns Denver's KUSA 9News.
The devastating impacts of hedge-fund ownership on local newspapers was an under-the-radar story that gained traction in media too late. So it's important to pay attention to these purchases early and what they might mean for local news. To that end, it seems like the Federal Communications Commission might be on it.
Last week, the broadcast regulator that is vetting the deal requested documents from Tegna and its purchaser, Standard General. What they asked for signaled the FCC is interested in what new ownership might mean for staffing and local news content.
From Broadcasting+Cable, which covers the industry:
Among the documents the FCC wants are "all analyses and documents relating to projected future capital expenditures, personnel headcounts and programming plans for each of the broadcast stations included in the Applications," as well as a description of "how a Washington, D.C. newsroom will be integrated with local stations and the extent of local station editorial control over resulting news coverage; provide all documents relating to any such proposed integration," and "all documents concerning any actual or potential consolidation of news operations or services, including impacts on personnel headcounts." The FCC also wants "all correspondence from [Standard Media CEO] Deborah McDermott or other Standard General executives to Tegna employees addressing how the proposed transaction may affect staffing or conditions of employment."
Standard General "has consistently confirmed that its plans for post-closing Tegna do not involve station-level layoffs," the company told Reuters.
The FCC's question about "local editorial control" is particularly interesting given the "must-run" controversy of the national conservative broadcaster Sinclair that owns local TV stations around the country.
What a sponsor likes (and doesn't) about this newsletter
This week, former journalist Eric A. Anderson, co-founder of the Denver communications agency SE2, wrote about this newsletter and why he chose to run a sponsorship box in it for a recent campaign to raise awareness about THC concentrates.
From the item:
My biggest complaint about this weekly e-newsletter is that publisher/author Corey Hutchins crams too much meaty news into each edition. (Corey might want to buy a copy of the Smart Brevity handbook published by the Axios founders. Or maybe just ask an Axios scribe for one of their six copies.)
Ouch.
He also wrote: "Like a lot of journalists, Corey is better at reporting than promoting himself." (I'll let you decide the extent to which you might agree.)
I'm open to more sponsorships in this newsletter, so I'll leave you with this line from Anderson: "It's been great to work with Corey on this sponsorship. I'd encourage others who want to reach his uniquely influential audience to consider [this newsletter] as a cost-effective way to connect." (And, hey, you should feel good about this, too, if you're reading it. He called you uniquely influential.)
How a 1972 law ended a free-booze gravy train for journalists at the Colorado Capitol
Next month, it will be 50 years since Colorado voters approved the state's Sunshine Law, which flipped on the floodlights into secret corners of state government.
Jeff Roberts, who runs the Colorado Freedom of Information Coalition, wrote a nice tribute to the law this week that includes plenty of details from a half-century of transparency.
This one in particular leaped out at me:
It also required lobbyists to disclose how much money they spend to influence legislation in Colorado. And that included William R. Spencer, lobbyist for the Colorado Beer Distributors Association.

"When the first quarterly lobbyist reports were filed, I pored over them at the Secretary of State's office and wrote down everything that looked interesting — including, in the spirit of transparency, how much the state alcohol lobby spent to keep the refrigerator in the press room stocked with beer," recalled retired Denver Post politics editor Fred Brown, a longtime board member and secretary of the Colorado Freedom of Information Coalition.

Near the end of a story published on Apr. 15, 1973, Brown reported that Spencer had spent about $140 a month to provide "beer for Statehouse press corps."

"That pretty much ended the beer distribution," Brown wrote in an email to CFOIC, "and also had a chilling effect on the afternoon poker games, and on my warm relationships with my colleagues — at least for a while. (And then, when The Post became a morning paper, that definitely put the kibosh on the carefree, boozy afternoons.)"
There's much, much more about the law's effect on Colorado over the years. So read Jeff's whole story here.
More Colorado media odds & ends
🐦 Check out Bird Wire, what journalism professor Dan Schaefer at the Community College of Denver calls "a list of Colorado student media, a map," and a "dynamic feed of the top ten articles at each institution."
⚖️ "The case of a Colorado graphic artist who argues she has a right to decline to design websites celebrating same-sex weddings because they are inconsistent with her religious convictions is scheduled to be heard during the U.S. Supreme Court term that begins Monday," UPI reported. "The justices took the case but limited their consideration to whether applying a public-accommodation law to compel an artist to speak or stay silent violates the Free Speech Clause of the First Amendment."
🎿 The November 2022 issue of SKI magazine "is our last print edition," the Boulder-based publication recently told readers.
🎙 Stuart Winchester interviewed The Colorado Sun's Jason Blevins about outdoors reporting and the "evolution of journalism" for his Storm Skiing Journal and Podcast. Blevins ripped into the "asshat" newspaper-owning hedge fund Alden Global Capital. "I directly relate the divisiveness and the uninformed situation that we have in politics in America right now to Alden Capital," he said. "They are the reason that we're having news deserts and people are so uninformed and we're losing our sense of community in a lot of these small places. It's because they burn down newspapers."
⏳ Shannon Mullane wrote about the history of student journalism at the University of Colorado Boulder.
⬜️ The Catalyst independent student newspaper at Colorado College published a blank 4-page edition this week along with an editor's note that read in part "[t]his week we asked people not to work. We let them know that we didn't expect hours of labor from them. We chose to give that time back."
💳 "The problem with newspapers has little to do with the journalism itself, which is more in demand than ever," wrote Aspen Times Editor Don Rogers in a column this week. "More viewers and readers than ever suck up every blot of news and views they can find. They just don't want to pay for it."
⏭ The Gazette has more details about The Indy alt-weekly's switch to a nonprofit ownership model in Colorado Springs.
🆕 Rachael Pickarski has joined the staff of the Colorado Press Association on a three-year grant from the Colorado Workforce Development Council, according to a statement this week. "Her job is to work with newsrooms to identify common challenges (hiring, retention, diversity, rising costs and more) that can be addressed collectively and facilitate working groups encompassing media and leaders in local business, education and civic sectors to make progress on these challenges."
⛰ Robert Meyerowitz, formerly the opinion page editor of The Durango Herald and before that an editor of The Colorado Springs Indy alt-weekly, is the new editor of the Park City Record in Utah.
💨 Heidi Ganahl, the Republican candidate for governor, is skipping a debate sponsored by "9News, Colorado Politics, the Denver Gazette and three local TV stations from around the state," Ernest Luning of Colorado Politics reported, because of what the candidate says is "biased reporting" by "one of the debate's proposed moderators, though her campaign didn't respond to a request to identify the moderator or elaborate on the coverage it considers unfair."
💰 "By the end of this year, 33 Colorado newsrooms aim to collectively raise at least a quarter-million dollars to strengthen and sustain their coverage of local governments, businesses, schools and communities — and they need your help," reports Colorado Media Project, which underwrites this newsletter.
🗞 Writing in The Montrose Press, Stephen Woody penned a column about some local newspaper history in honor of National Newspaper Week.
👀 The North Texas radio station KERA is "in talks to acquire" The Denton Record-Chronicle in a deal "facilitated by the National Trust for Local News, which set up a conservancy last year to acquire 24 newspapers in Colorado to help preserve local news outlets." (Hey, Colorado Public Radio … what'cha thinkin'?)
I'm Corey Hutchins, co-director of Colorado College's Journalism Institute. For nearly a decade I've reported on the U.S. local media scene for Columbia Journalism Review, and I've been a journalist for longer at multiple news organizations. The Colorado Media Project, where I write case studies, is underwriting this newsletter, and my "Inside the News" column appears at COLab, both of which I sometimes write about here. Follow me on Twitter, reply or subscribe to this weekly newsletter here, or e-mail me at CoreyHutchins [at] gmail [dot] com.