Media advocates in Colorado swarmed into action this week to help several local newspapers continue publishing a physical edition after a large out-of-state company announced it would shut down the printing plant they currently use in Pueblo.
The papers, spanning from the Denver suburbs to rural southeastern Colorado, had been destabilized by shockwaves from an abrupt decision last week by newspaper owner Gannett. The nation's largest newspaper chain, which had conglomerated with another newspaper giant in recent years with financing from private equity, stated it would close its printing operations at the Pueblo Chieftain.
The corporate cost-cutting measure taking affect Aug. 13 caught multiple non-Gannett local papers that use the press off guard, and set them scrambling.
Writing for The Gazette in Colorado Springs, Mary Shinn and Stephanie Earls reported that the closure would impact several Spanish-language newspapers including La Prensa de Colorado. Owner Mary Flores, who founded the Denver-based paper and runs it with her husband, Joel, and son, Emilio, told the reporters that while she believed it will be hard to look for another place to print, "our community is not ready to go 100% online."
Catherine Thurston at The Limon Leader and Eastern Colorado Plainsman, which print 1,400 copies each week at the Chieftain, told me via email that while there are other options, prices are "much higher" than what they've been paying the Chieftain. "Very well may sink us," she said. "Another news desert in the making thanks to Gannett."
But hopefully not.
Almost immediately after Gannett announced its decision last week, staffers at the Colorado Press Association, Colorado Media Project, and Colorado News Collaborative (COLab) coalesced to respond. Their effort has grown to include news organizations, printers, manufacturing advocates, and workforce development.
The response is a testament to Colorado's robust local media ecosystem builders, tight networking, and a unique ethos of collaboration.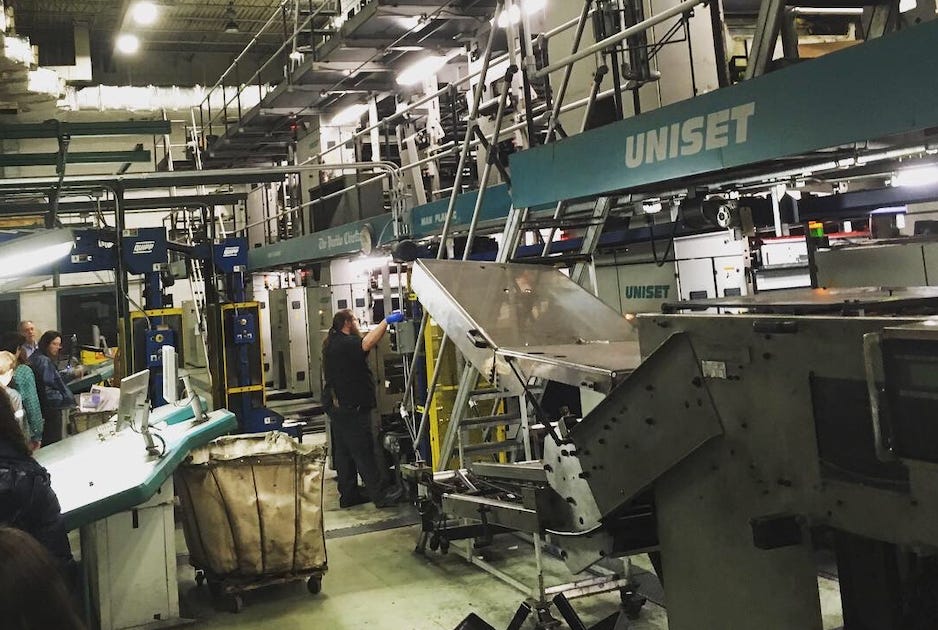 Indeed, at the time of the closure announcement, a working group was already months deep into a major project focused on the future of sustainable printing for local newspapers in Colorado. That initiative was part of five "wicked problems" that Colorado Media Project, which underwrites this newsletter, had announced in March it would spend $360,000 to help mitigate.
Because of that, when news spread that the Chieftain plant closure would impact at least 50 smaller newsrooms, the working group was well positioned to jump in and help triage the problem. Colorado Press Association and COLab quickly assembled a list of the papers affected, got in touch with stakeholders, and hosted a web call today, June 22, to share contacts, compare notes, and hash out ways to help.
The print working group, led by CPA's partnerships manager Rachel Pickarski along with Grant Baskerville on behalf of Colorado Media Project and Carol Wood, COLab's business innovation director, was already working on a summary report of research on the state of printing in Colorado. That gave them a good read on what other printing plants are left in the state. They created a map of existing printing locations in Colorado and neighboring states and overlayed it with papers affected by the Pueblo problem.
That problem is dire, and those impacted have about a month and a half to figure out what they'll do before the last paper rolls off the Chieftain's press.
"This is not just a publisher problem — printers are faced with skyrocketing costs, as well," Wood said via email. "Think about ink, paper, fuel for fleet trucks, press people, mechanics and electricians, and aging press towers, or ones that are not compatible with a publisher's content management system."
Wood said while some of the solutions they come up with might be local to Colorado, other states might take note of what's playing out here and the way Coloradans have been able to respond.
"We are within a region that faces a shrinking printing press landscape. Nebraska has lost presses, as has New Mexico. Some Colorado publishers print in Wyoming," she said via email Wednesday. "Our collaborative ecosystem remains a beacon for other news landscapes around the country. We field inquiries about how we support our array of new organizations in Colorado, and we freely share that information so that other markets can have a fighting chance, as well."
Despite the quick response, John Rodriguez, publisher of the now-defunct news magazine PULP in Pueblo, argued a potential closure in his city should have been on the radar of Colorado's media industry sooner.
On the June 22 call, which included publishers from across the state, printers, and others, Baskerville said the working group is circulating a survey to printers and is finishing another for newspaper publishers about their needs and experiences.
Colorado Press Association CEO Tim Regan-Porter said on the call that while he's heard talk about efforts to buy the Pueblo printing plant, he heard from at least one group that it seemed financially insurmountable. Dennis Anderson, publisher of the Montrose Daily Press, which has a printing facility on the Western Slope, said the cost of newsprint lately has actually been going down and his outfit might have some capacity to take on some new weekly clients.
A representative of the World Journal out of Walsenburg said the paper now expects it will print at the Santa Fe New Mexican across the state line. (The more people the New Mexican can help in Colorado, "the easier it's going to be as far as distribution," said a representative for the paper there, adding they'd be willing to help as far as solutions go.)
Lee Bachlet, the chief operating officer of Cherry Road Media, which has been buying up small newspapers across the country, said that despite complications in the newspaper printing world he does not believe that print newspapers are on their death beds — and he offered to do what he could to help. "The last thing we want to do is see newspapers close," Bachlet, who is a former publisher of the Chieftain, said.
It's early, and people are still working things out for both the near and long term — there might not be any "silver bullet," Regan-Porter acknowledged — but the immediate white-blood-cells reaction among Colorado's local media forces have buoyed sprits for some.
"While no broad solutions have surfaced yet, I like to think that this gives publishers some degree of comfort that they're not alone in this," Linda Shapley, publisher of Colorado Community Media whose network of two-dozen papers in the Denver suburbs prints at the Chieftain, said via email Wednesday.
"I think we are all dedicated to preserving the vital role that our publications serve in our communities, and that purpose is more important than competition," she added. "That's such an uplifting notion for me."
More local media coverage of the Chieftain closure
Major regional newspapers in Colorado and multiple TV stations carried news of the printing plant's planned closure.
"Small papers across Colorado face uncertainty as Pueblo press closes," read a headline of a story in The Gazette in Colorado Springs. The Denver Post, which will now print the Chieftain, also ran an item, as did KRDO.
All of them noted the closure will leave 51 workers out of a job.
But Rhea Jha of the Springs TV station FOX21 exclusively reported a troubling item that employees who were trying to talk publicly about losing those jobs said they were "being threatened by The Pueblo Chieftain's parent company."
Here was a head-shaking excerpt from that coverage:
FOX21 had interviews scheduled with employees who wanted to speak out against this decision until they received a call from a Gannett representative. According to employees, they were told if anyone spoke to the media, they would be terminated immediately, losing all compensation, and severance pay.
Speaking for the workers was the Pueblo News Guild labor union, which blasted the decision last week and alerted the public about the potential disruption for newsrooms beyond the Chieftain.
John Rodriguez, ex-publisher of the former PULP news magazine in Pueblo, penned an ode to the Pueblo Chieftain's pressmen and women on his Puebloan Substack. "Today, I call upon the Rawlings Foundation, and the Rawlings family who sit on its board, to support any Chieftain press staff that suffers financial hardship because of Gannett's decision," he wrote in his essay. (The Rawlings family sold the paper a few years ago when its patriarch died.)
⏳ Flashback: Matt Lubich, who co-owns Colorado's Johnstown Breeze newspaper, wrote a 2014 essay, "The Backroom: Life among the ink-stained savages," about growing up around the Chieftain's printing facility.
💳 Help: Chieftain reporter Anna Lynn Winfrey has organized a GoFundMe to help Pueblo workers laid off by Gannett. "Most of the people losing their jobs are not represented by the Pueblo News Guild and are not receiving adequate severance packages," she writes.
Gazette and its reporter go to state Supreme Court over database of Colorado cops
Investigative reporter Christopher Osher is a named petitioner along with his news outlet The Gazette and the Chicago-based Invisible Institute in a new legal brief to the Colorado Supreme Court over access to records.
At issue is whether a police training board should be subject to the Colorado Open Records Act, better known as CORA, rather than a separate open-records law related to law enforcement. Jeff Roberts of the Colorado Freedom of Information Coalition has the background:
A three-judge panel of Colorado's second-highest court determined in April that the Peace Officer Standards and Training (POST) board — housed in the state attorney general's office — is a criminal justice agency subject to the Colorado Criminal Justice Records Act, rather than CORA. That legal distinction matters because CCJRA gives law enforcement agencies broad discretion to deny requests for many records after conducting a balancing-of-interests test.

If CORA were to govern the release of POST records, disclosure of Colorado's peace officer database would be subject to a provision entitling requesters to copies of public records in "sortable" and "searchable" formats minus any fields of information that must not be released under any exceptions in the law or elsewhere in state statutes. Those exceptions to CORA's disclosure mandate must be narrowly construed, Colorado's high courts have ruled.

The Court of Appeals said POST's statutory duty to revoke a peace officer's certification, which requires it to collect and store arrest and criminal records, "qualifies it as a criminal justice agency."
Arguing on behalf of the news organization, its reporter, and the Chicago journalism group is Rachael Johnson of the Reporters Committee for Freedom of the Press.
If the court ruling remains the law of the land, "such agencies may hold themselves out as 'criminal justice agencies' to avoid CORA's requirements; their records would no longer be 'public records' subject to CORA," Johnson wrote in the brief, adding that "the opinion creates a gaping hole in CORA that is contrary to the General Assembly's intent."
Roberts' post about the legal action documents Osher's reporting and how transparency might help illuminate for the many what is known by a few for the sake of the public interest.
More Colorado media odds & ends
🇹🇷✈🇩🇪 This newsletter is in out-of-the-country mode, meaning content might be lighter than usual and I might not be as quick to respond to emails, voicemails, or DMs. (And also that my Instagram feed is insufferable.)
🏳️‍🌈 The Denver Press Club is hosting an LGBTQ+ journalism mixer on June 27. It's a "great opportunity for LGBTQ+ journalists from different mediums/organizations to meet, mingle and build their network and friendships — it's free, and open to all LGBTQ+ journalists," says Colorado Public Radio's Nathan Heffel who is organizing it with his colleague Matt Bloom.
🗺 Colorado College journalism students Zeke Lloyd and Michael Braithwaite, who are reporting this summer from eastern Europe on a CC grant, found Nuggets star Nikola Jokić at home in Serbia where the town of Sombor welcomed him home.
📡 The National Federation of Community Broadcasters is hosting its annual conference in Denver June 28-30.
💨 Conrad Swanson has left The Denver Post to join The Seattle Times to write about climate change. "I'm sure gonna miss this place but I'm really looking forward to this next opportunity," he said.
❌ Last week's newsletter referred to Kara Mason as a former reporter for the Pueblo Chieftain; she worked for PULP newsmagazine in Pueblo. Robert Rawlings died in 2017, not 2018.
💸 New York Times finance reporter Emily Flitter highlighted Colorado's Wet Mountain Tribune in a story titled "How Local Officials Seek Revenge on Their Hometown Newspapers: When coverage upsets them, towns and counties are revoking newspapers' lucrative contracts to print public notices."
📱 "Aspen School District, which has more than 3,000 enrolled students, is joining a nationwide trend of school districts suing a variety of social media companies over their perceived role in harming youth mental health," Paolo Zialcita reported for Colorado Public Radio.
🤖 In a column titled "This was not written by AI," Colorado Newsline editor Quentin Young argued that "government agencies should adopt clear policies around whether generative AI has a place in their operations and, if it does, how it may be used."
🏀 A "pair of Greenes" covered the Denver Nuggets basketball championship parades 25 years apart, 9NEWS reported.
📻 Colorado Public Radio has welcomed three new members to its board of directors, the station announced. They are Nelson Hioe, Deidre Johnson, and Sarah Shrader.
🎙 Colorado Sun reporters Jesse Paul and Olivia Prentzel discussed "their reporting on the fatal Aurora police shooting earlier this month of 14-year-old Jor'Dell Richardson" on The Sun's Daily Sun-Up podcast.
I'm Corey Hutchins, co-director of Colorado College's Journalism Institute. For nearly a decade I've reported on the U.S. local media scene for Columbia Journalism Review, and I've been a journalist for longer at multiple news organizations. Colorado Media Project is underwriting this newsletter, and my "Inside the News" column appears at COLab, both of which I sometimes write about here. Follow me on Twitter, reply or subscribe to this weekly newsletter here, or e-mail me at CoreyHutchins [at] gmail [dot] com.